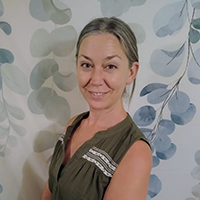 Associate Professor
Regular Faculty
Contact Info
Breland Hall 305; Lab: Breland Hall 307
View CV
Expertise:
Cultural Resource Management, Historical Archaeology, Archaeology, Anthropology
Biography
I am an archaeologist specializing in the American Southwest and Southern Plains. My research focuses on the material construction of social and political identities and the influence of interregional trade in New Mexico, especially between AD 1500 and the present. 
Current Research
My primary interest is in the material construction and evolution of social identities within contact zones. Much of my recent research has focused on group identities that formed during the Spanish colonial, Mexican, and early American periods in the Southwest.
One major focus of my research has been on the construction and expression of group identities within multiethnic colonial communities. I conducted fieldwork within the Spanish land grant community of San Miguel del Vado, New Mexico, established in the Upper Pecos River Valley on the eastern frontier of the New Mexico colony in 1794. My analysis of the use of space, architecture, and materials at this site focuses on the ways that residents used corporate practices and communal spaces to downplay ethnic differences and express a shared civic identity (vecindad) that distinguished them from their eastern neighbors and trade partners. I also explored archaeological evidence of Hispanic expansion and settlement in New Mexico in both earlier and later periods: at Los Ojitos, a homestead-era village in the Middle Pecos Valley occupied ca. 1870-1950, and along El Camino Real de Tierra Adentro, the road connecting New Mexico to Mexico from 1598 through the 1880s. Oral history is an important component of this research, and I've been involved with several oral history projects in this region. One of these, the New Mexico Rural Heritage Oral History Project, is the source of a short podcast series hosted on the KRWG website. In my current project, the Cañón de Carnué Archaeological Project, I'm working with the Cañón de Carnué Land Grant and the City of Albuquerque's Open Space Division to study the archaeology associated with this land grant community.
I have previous experience working in cultural resource management (CRM) in the Southwest and Great Plains regions, and currently serve as Vice Chair of the New Mexico Culture Properties Review Committee. I regularly teach the two core courses (ANTH 540 and 542) for the Graduate Certificate in Cultural Resource Management. The fall course (ANTH 463/540) focuses on CRM law, while the second course taught during the spring semester introduces students to the practice of CRM.
Courses Presently in Rotation
ANTH 1115G: Introduction to Anthropology

ANTH 1160G: World Archaeology

ANTH 315: Introduction to Archaeology

ANTH 318/518: Historical Archaeology

ANTH 463/540: Cultural Resource Management

ANTH 542: Cultural Resource Management II

ANTH 503: Anthropological Theory
Other Courses